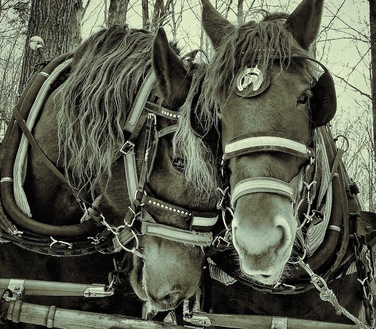 Sarah and Betsy are Suffolk Punch Draft Horses, a Heritage Breed, there are less than 650 left.
Peter uses the horses, along with his tractor to work on the farm. They mow fields, rake hay, spread manure, pull logs out of the woods and do a fine job of keeping the grass down where needed.
Sleigh Rides, Hay Rides (Click Here to download a pdf of our flyer)
We offer hay rides and sleigh rides at $25.00 per person ($75.00 minimum), weather dependent. Peter has built an extensive trail through our local woods for our "Sleigh-ride like no other", give us a call for more information and pricing.
You may have seen the girls at work at Christmas in Weston, The Vermont Country Store in Rockingham or at Grafton Ponds.
---
---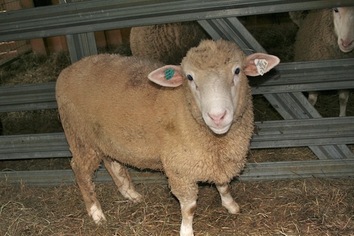 The Sheep

We raise a Dorset Cross breed of sheep. The ewes are good mothers, normally producing twins (some triplets too). We currently have a flock of approximately 40 ewes for breeding.

Lambs are born in March and in May, busy times here on the farm. We participate in Agro-tourism, guests who rent the Farmhouse may work with us taking care of the lambs. It's quite an experience!


---